Euro 2012 Qualifiers – Spain vs Czech Republic Preview and Match Comment Thread
March 24th, 2011 | by: Ade C. |

Comments Off
Here we are again… we stop a thrilling (to some) Liga race to return to the fields of international battle, hopefully to put a better performance than we have at our last friendlies. Because this is the real deal. This isn't just our reputation on the line; we need the points to make it to the 2012 Euros and not let our World Cup languish in loneliness in a cabinet somewhere.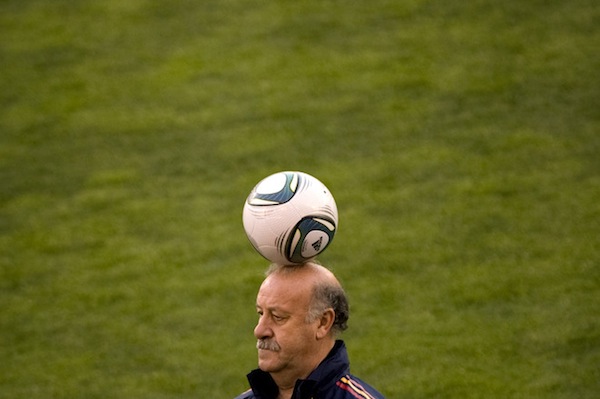 And so we meet the Czech Republic. They are the second on the Group I standings right now with 6 points (meaning they will catch up on us if we lose!), having won against Liechtenstein and Scotland and, surprisingly, lost at home against Lithuania. On paper at least, they are the best team in the group after us, and as such, we should show a veeeeery large amount of respect, especially considering that La Roja comes from a, um, less than stellar run of form lately.
With pretty much the same squad that won the 2008 Euros and the 2010 World Cup (save for Puyol, Cesc and Pedrito, injured), Vicente del Bosque will likely do what he always does and…
… wait, what was that?
—————-Casillas——————
Arbeloa–Ramos–Piqué–Capdevila
———–Busquets—-Alonso———-
————-Xavi——Iniesta—————
———–Torres———Villa————-
That's the team Our Wise Walrus has tested out in two training sessions. On the one hand, I am delirious with the thought that maybe he reads this blog and my constant insistence on using Ramos as a CB has paid off (in Puyol's absence, the other option is Albiol, who, whilst not bad, is a bit mediocre for my tastes). On the other hand… Torres.
I don't dislike El Niño. Goodness knows he has worked hard for the team and has scored some very valuable goals. But… where was the last time he scored? Where was the last time he looked less that terrible playing with La Roja? Why are we still calling him up, let alone playing him as a starter?
More importantly, why are Llorente and Silva, the two best players for this NT in the last few matches, the ones who have scored the goals, provided the enthusiasm, made the effort, on the bloody bench AGAIN?!
I'm lucky there aren't any walruses in my area, or I'd be tempted to pick a fight with one…
To cheer me up, I'll just remind us that tomorrow will be Xavi's 100th match with La Roja; he thus will join a *very* exclusive club of players with those sort of numbers, and Adidas made a (cheesy, but somewhat endearing) spot to celebrate it.
Also, Villa has another opportunity to finally, finally, FINALLY break Raúl's all-time goal-scoring record… which he will promptly waste by being offside, hitting the goalpost, and/or passing to Torres. Mark my words.
But still, La Roja is La Roja, double-pivot or not, and we will be here tomorrow at 22:00 CET to cheer them on, possibly also sending updates through our Twitter.
Subscribe

Spain World Cup Blog RSS Feed

Share
Comments are closed