Scotland 2, Spain 3, Or, Harder Than It Seemed, Easier Than It Looks
October 13th, 2010 | by: Ade C. |

View Comments
As some of you pointed out last night after the match, this isn't such an impressive result, considering it comes after the 0-4 to Liechtenstein and the 3-1 to Lithuania, not to speak of the recent good results of some others of the possible Euro contenders, like Germany or The Netherlands.
But, and you know I'm not above despairing of the team when they play poorly, it was not a bad match.
Vicente Del Bosque lied to us when he promised not to use his double-pivot. There was only one change from the squad that played Lithuania, but it completely changed the face of the team:
Team against Lithuania………………………………………………………Team against Scotland
—————-Casillas—————— …………………………………. ——————–Casillas——————-
Ramos—-Piqué—Puyol—-Capdevila ……………………………… Ramos—-Piqué—Puyol—-Capdevila
——————-Busquets——————– ……………………………… ———-Alonso—–Busquets———–
——-Cazorla—Iniesta——Silva——— …………………………. ——-Cazorla—Iniesta——Silva———
———-Llorente—–Villa———– …………………………………………. ——————Villa—————–
It was like Our Wise Walrus sat back and said, 'I'm going to replaced this team's sucessful two-man attack with my favoured double-pivot. Let's see if anyone notices'. Oh, we noticed alright…
Scotland's Craig Levein, maybe heartened by the atmosphere at Hampden park, ditched the unsucessful 4-6-0 he tried to use against the Czech Republic and employed, novelty of novelties, a striker, Miller, and ten other men, as such: McGregor, Bardsley, McManus, Weir, Whittaker, Dorrans, Darren Fletcher, McCulloch, Morrison, Naismith, Miller.
If our hosts were impressed to be playing the World Cup Champions, they certainly did not show it, and the first couple of minutes were all Scotland attacking. Fortunately, Spain recovered the ball soon enough, and it was down to our familiar script of controling, attacking, and coming up against a 9-men-defence. David Silva was, in my opinion, the best man in this half, setting up opportunities for Villa, and having opportunities of his own, that unfortunately did not come to fruition. Cazorla and Iniesta were both in fine form too, and I doubt there were many people mourning Xavi's absence even with the lack of goals.
But Scotland had its dangers, in particular their quick counters, and both Capdevila and Busquets had world-saving moments when Naismith or Miller were almost at Casillas' door, usually by sneaking past Sergio Ramos, who was too busy playing midfielder/winger. In the end, though, it took a handball in Scotland's box, and David Villa's PK, to get Spain in the scoreboard with one minute to go until half-time. With this goal, Villa equals/surpasses (depending on who you ask or if you consider the first goal in the Poland friendly an own goal) Raul's mark as top goalscorer for La Selección.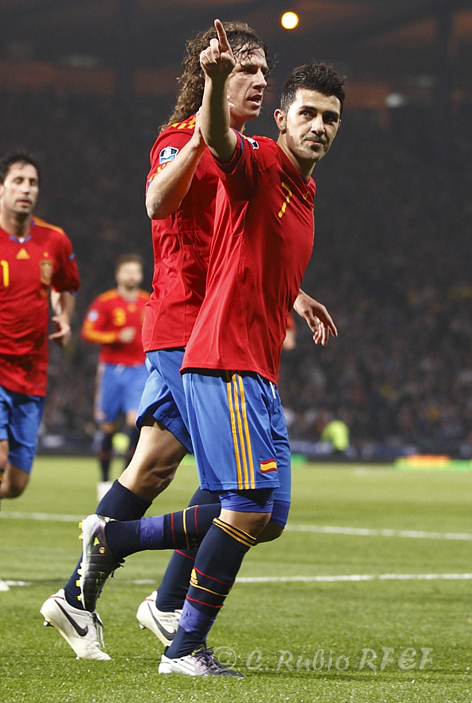 No subs for the second half, and no changes in the way the match was going, either, until Iniesta scored a lovely goal, after a Villa assist saw Cazorla shooting on goal and Don Andrés picking up the rebound. 0-2 by the 55th minute, and the Spanish commentators were already putting their feet on the table and talking smack about the 'poor level of Scottish football'.
Three minutes later, one of those counters finally bore fruit, in the shape of Naismith heading one past Casillas after a great cross into the box that left Piqué just standing there, and Ramos nowhere to be seen (he was the one who had to be there to mark Naismith!). Encouraged by this, Scotland kept up their attack going and were rewarded by poor Piqué pushing the ball into Casilla's net in his attempt for a desperate last-ditch tackle. Once again, I'm pointing the finger of responsibility to Ramos too, who was galloping off into the sunset when he should've been defending.
Two unfortunate goals that could have, and should have, been prevented, and suddenly the match looked much tougher than it had ten minutes before. Del Bosque chewed his moustache for a moment and made his first sub, Pablo Hernández coming in for Cazorla, and then finally obeyed either the voice of his conscience or my screams from Spain, and put in Fernando Llorente for David Silva.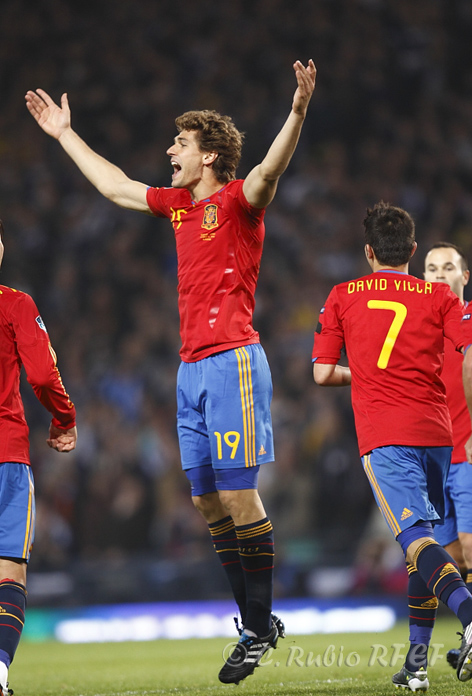 And what do you think happened? What happens every 58 minutes Llorente is on the pitch for Spain, obviously: he scored. He needed four minutes to do it, and the question was, what would've happened if he had a whole match? Why didn't Del Bosque play him from the start?
In any case, Spain weren't about to let go off their lead again, so they held on tightly to the ball, which was made easier when Scotland's Whittaker was shown his second yellow of the night and walked off early. The final minutes were a bit nervewracking, all things considered, and it was with great relief that we saw the match end.
A good result, 9 points after 3 matches, that sees us stay at the top of the Group I table, with the Czech Republic, who beat Liechtenstein 0-2 earlier, in second place, and Scotland third, but one that was shadowed by those two unnecessary goals, the brief moments of ensuing panic, and the knock on his left knee that David Villa picked up late in the match and might see him sidelined for this weekend's FC Barcelona vs Valencia.
Highlights of the goals:
So, what did you think? Did you also miss Llorente? Do you understand Del Bosque's attachment to the double-pivot? How good did you think the match was?
In happier news, the boys of the Spain U21s beat Croatia 0-3 (Domínguez, Adrián, Jeffren), for an aggregate of 1-5 that ensures their presence in the 2011 U21 Euros and opens the door to the Olympics too, perhaps. It was a good match for La Rojita, and they seem to be picking up speed even with the absences of Capel, Javi Martínez and all the other injured… I see a bright future for Spain's football!
Subscribe

Spain World Cup Blog RSS Feed

Share
blog comments powered by Disqus