Spain vs. Chile Preview: Some Pun About How Good Chili Is….
June 24th, 2010 | by: Corey |

View Comments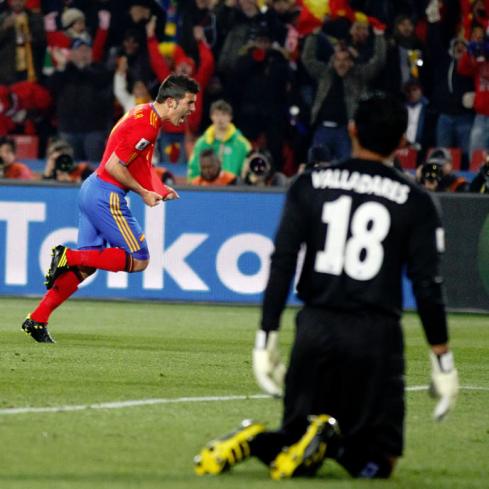 Spain vs. Chile
Loftus Versfeld Stadium
Friday, June 25th, 2010
2:30pm eastern
ESPN, ESPN 3

I do l love chili, especially with beans!
Chile went unbeaten in the four friendlies it played before the tournament, recording 3-0 wins against Isreal and Zambia, as well as a 2-0 win against New Zealand and a 1-0 win over North Ireland. Impressive, despite these friendly results not mattering for much. But winning all of them sure does not hurt, and this has been done without their talisman Humberto Suazo, recovering from an injury. They also beat Honduras pretty resoundingly in the opening match of their group stage, one of the only impressive starts for any team at the tournament.

Humberto Suazo, who had a strong half season on-loan at Real Zaragoza, has been battling a left thigh injury since the end of the domestic season, but has been included in the final group regardless. As Marcelo Bielsa, coach of Chile said, "if everything continues like it is now, he should be available" for the Group H match again Honduras. Of course he did not make that game, but started the game against Switzerland and looks very rusty, a la Fernando Torres. Other notable names in the squad include Arturo Vidal of Bayer Leverkeusen, Claudio Bravo of Real Sociedad, Mauricio Isla of Udinese, Gary Medel of numerous transfer rumors, Mati Fernandez of Villarreal, Mark Sanchez of CSKA, and Jorge Valdivia who plays in the UAE. Some very useful players
1 Claudio Bravo Goalkeeper 6′0″ 185 lbs April 13, 1983
23 Luis Murillo Marin Goalkeeper 6′1″ 192 lbs May 18, 1983
12 Miguel Pinto Goalkeeper 5′11″ 179 lbs July 4, 1983
5 Pablo Contreras Defender 5′11″ 161 lbs September 11, 1978
2 Ismael Fuentes Defender 5′11″ 168 lbs August 4, 1981
4 Mauricio Isla Defender 5′10″ 159 lbs June 12, 1988
18 Gonzalo Jara Defender 5′10″ 170 lbs August 29, 1985
17 Gary Medel Defender 5′7″ 157 lbs August 3, 1987
3 Waldo Ponce Defender 6′0″ 168 lbs December 4, 1982
8 Arturo Vidal Defender 5′10″ 165 lbs May 22, 1987
15 Jean Beausejour Midfielder 5′10″ 185 lbs June 1, 1984
6 Carlos Carmona Midfielder 5′10″ 150 lbs February 21, 1987
13 Marco Estrada Midfielder 5′9″ 165 lbs May 28, 1983
14 Matias Fernandez Midfielder 5′10″ 161 lbs May 15, 1986
19 Gonzalo Fierro Midfielder 5′7″ 157 lbs March 21, 1983
11 Mark Gonzalez Midfielder 5′9″ 154 lbs July 10, 1984
20 Rodrigo Millar Midfielder 5′11″ 165 lbs November 3, 1981
21 Rodrigo Tello Midfielder 5′7″ 154 lbs October 14, 1979
16 Fabián Orellana Forward 5′6″ 154 lbs January 27, 1986
22 Esteban Paredes Forward 5′10″ 172 lbs August 1, 1980
7 Alexis Sánchez Forward 5′6″ 137 lbs December 19, 1988
9 Humberto Suazo Forward 5′7″ 159 lbs May 10, 1981
10 Jorge Valdivia Forward 5′8″ 157 lbs October 19, 1983
The first thing to note is that there are very few traditional strikers in the squad. Valdivia and Orellana are playmakers, while Sanchez and Mark Gonzalez are wingers. That leaves the recovering Suazo, who was pretty rusty looking against Switzerland, and Esteban Paredes. Likewise, with a 5 man defense, Bielsa uses Arturo Vidal in a wing back position, even though he plays his club football as a central midfielder. Rodrigo Tello can play the wing back role well, but he is not as tactically disciplined for Bielsa's liking. The squad is versatile in that several players can play multiple positions, but the lack of a reference point at the tip of the formation must be a concern.
I caught part of the Honduras win and the match against Switzerland, intrigued by their unorthodox formation, which I had read so much about. Below are some notes I took during the games:
- Chile's 5-2-3 formation, which is very flexible depending on whether they have the ball or not, has really stretched the Hondruans and kept them hemmed in their own area. That fact that Chile can throw atleast five players in to the box at any time means its a wave of attacking intent a team must be vigilant against.

- Despite the use of a playmaker in Mati, the real playmaking comes from the wings, particularly Alexis Sanchez, who is a tricky customer and very fast.

- Carlos Carmons has been booked against the Swiss and will be out of the Spain game. This means Bielsa may switch to a flat back four to compensate for the loss of his favored defensive midfielder. But, Chile seems to adapt their backline to the number of strikers they are facing. If Spain use one striker, Bielsa will use two centerbacks and two normal wing backs. If Spain use two strikers, Bielsa will go with three center backs and push his wingbacks in-between the defensive line and two central midfielders. Bielsa likes to have a free centerback to race forward and help with midfield duties or be a sweeper of sorts.

- Sanchez has been tremendous with the ball at his feet, but the end product has been very poor. Whether its Capdevila or Arbeloa, they should allow him to run around and do his tricks but get closer to him when it comes time to cross/pass/shoot. This will take extreme discipline, and given that Isla, the supporting wingback, does not attack as much as Vidal on the opposite side, it may be wise for Arbeloa to man mark Sanchez. Then again, he is not going to switch flanks or float out of position so it may not be necessary to specifically focus on him, but to keep the flank free of crosses.

- Vidal and Carmons both take excellent shots from distance. With the ball moving so much in hang time, its always considered a chance to get the ball on frame and see what happened. Spain will need to close down the wingbacks early to prevent them from overlapping. Not sure how Del Bosque wants to do that.

- Some cute Swiss girls in the stands.

- I cant remember who said this, maybe the old man I talk to at the gym, but I think it was a Spanish journalist: "these people make chocloate and watches, how did we loose to them?". Humorous.

- Ohh that red card was bullshit. Vidal sold it all the way, but it will give me a good view of how Chile plans to attack what was already a very packed Swiss penalty area.

- Beausejour is getting more involved in the game now since Behrami was sent off and Lichsteiner has left midfield cover. With the Swiss centerbacks doing well to clear crosses, I wonder if a goal will come in this game. Bielsa may have to make a change at half time to become even more offensive. Three center backs against one striker at this point means he may change to a flat back four. Id be interested to see a second striker brought on, or allow Mati to move closer to Suazo.

- Two subs, Valdivia and Mark Gonzalez. Okay, so I was right, with and added bonus. Withdrawn are Humberto Suazo, and Arturo Vidal. So a flat back four with Isla at right back, and Valdivia is introduced as the 'striker'. Since Valdivia is more of a playmaker, it looks like Sanchez will be cutting in more often.

- Sanchez scored off a deflection and celebrated like a buffoon until someone told him the goal was called off. Bielsa sips some agua and looks calm still.

- Great width, and Valdivia is spreading the ball around everywhere. But I will reiterate my earlier point, there is not a sharp edge to their play, a lethal striker to put away all of these great chances. Its a storm of bees in terms of three wingers, two creative midfielders and the wing backs. But no one for that final pass to go towards.

- Mati Fernandez was just booked, so he misses the next match against Spain also. Not really sure why, he did nothing wrong. The Saudi ref has completely lost the plot, as if this has not been the story of the tournament with all of the errors committed by FIFA's merry troop of blunders. Can we have video replay yet?

- Switzerland just broke the record for longest streak of minutes without conceding at the World Cup, surpassing the Italians. Ho hum.

- For all their bluster, the Chileans lack that cutting edge in front of goal with an off form Suazo or Paredes. The have huffed and puffed but could not blow the Swiss brick house down, which I suppose is fine given the Swiss defensive strength. But one goal against Honduras illustrates the point that the Chileans, without goals from midfield, Chile looks like flattering to deceive to be honest…..Check that, Mark Gonzalez just scored off a header from a Paredes cross after a nice through ball. Hmmm, six points is a formidable tally for two goals scored.
For a more rigorous tactical breakdown of Chile, I refer you here. I played in a 5-2-3/3-3-2-1 formation a few times with a travel team that visited a few colleges. It was uncomfortable to say the least. But Bielsa, a master tactician, has gotten a group of players that can carry out his instructions to the full, and given how well they played in qualifying, finishing second and a point behind Brazil, Chile have a very strong group. While the switches from three center backs to two against Honduras was evidence of Bielsa's want to shift his defense to the oppositions game plan, the three man attack and use of a play maker and defensive midfielder remains unshaken, giving the Chileans a very attacking look.
But like I said, without that "out and out striker" to tuck away a goal or two, the Chileans look toothless in front of goal. Sanchez is not much of a goal scorer, although with refinement he could be, and the rest of the midfield supporting cast are not deadly in front of goal, but create plenty of chances. The thing is, with Spain most likely wrestling more possession away, how well can Chile use the ball. They look a fearsome counter attacking team, but Bielsa wants them to dominate the ball, which may not be possible against Spain. Without counter attacking sharpness, Chile may not be able to scare the Spanish to much. Then again, they are clearly far superior to Switzerland and Honduras, so this will be the toughest of the three games for both teams.
With the enforced absences of Carmona and Fernandes, and the listless first appearance for Suazo, Bielsa may make several changes to his lineup. Whether he uses two or three center backs depends on what Del Bosque does with his strikers.
————Bravo————–
—–Ponce—Jara—Medel——
Isla———————-Vidal
————-Estrada————-
Sanchez——Gonzalez——Beausejour
————-Paredes———–
Heavily layered, I could even make a case that Mati plays closer to Carmona and that the two wingers play in-between the striker and the central midfielders, effectively making it five layers to the formation. In that, it is a very sophisticated formation to operate, and as I said, these players needs to be very tactically disciplined. With that being said, the loss of Mati Fernandes and Carlos Carmona to suspension forces Bielsa to change up his central midfield. Withdrawing Vidal at half time in order to change up his formation against the 10 men of the Swiss to me hinted he would be saved for the Spain game, where he would move in to a more customary midfield role. Tello can easily slot in to the left wingback position, but I wondered if he is favored by Bielsa or not. With a few days to go, we have learned that Bielsa prefers to use Estrada and Mark Gonzalez as replacements for the suspended midfield pair. Not a direct replacement for Mati, but it should provide some offensive spark.
Paredes had a positive impact when introduced later in the second half. I can see him getting the start over Suazo, although Bielsa has shown a propensity for using Valdivia as the striker, which is an odd fit. Still, with Fernandes out, Valdivia needs to be in the playmaking role, otherwise the team will not tick as well. I cant see why using a winger in Gonzalez will give the team the same kind of rhythm that they require in the playmaking role. But obviously Bielsa fancies Gonzalez against the Spanish midfield.
Bielsa has several different options and it will be interesting to see who ends up on the field for Chile.
Spain Team News: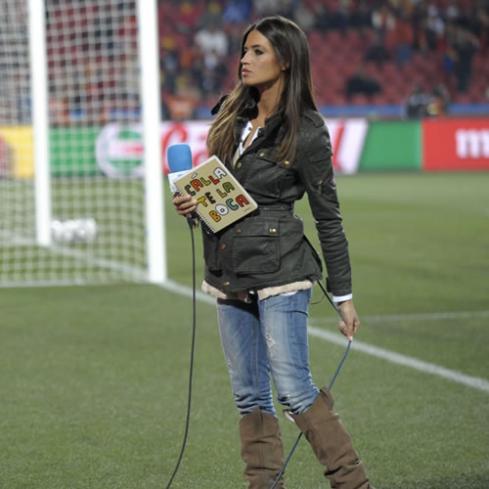 Ohh Sara, Ohh Sara!
Iker is a lucky man….
Andres Iniesta has been declared fit to play, but I am unsure if he is to start or not. Jesus Navas did okay against Honduras, but it was always going to be an odd choice that David Silva was dropped with Iniesta unavailable through injury. Playing two strikers certainly helped the attack, but the three man midfield looked labored to provide the killer pass at times. Without David Villa's excellent wide play, you could say that a great deal of the chances created would have been non-existant. We cannot have that against a very organized Chile defense, so there is a need for a playmaker, probably instead of Navas.
Del Bosque has a whole lot of thought to put in to this game. Considering the less than conventional nature of the Chile formation and the emphasis on strong wing play, Del Bosque must decide on either countering the Chileans wing play, or going through the heart of the formation. Villa's excellent play from the left, usually starting outside the left back and then coming in between the left back and center back to create real trouble. Whether he is used in such a capacity again remains to be seen, but he looked excellent in the role and Id assume that Del Bosque takes a similar approach. It might be wise to stretch the Chilean back line by using Villa in the wide position and overloading the right hand side again with Navas. Whether Bielsa takes that as Spain using two strikers or one will dictate how many center backs he uses. I would assume Del Bosque want to see three center backs, because this procludes only using one defensive midfielder.
That numerical advantage in midfield may be a huge advantage for Spain. While I said that playing Busquets AND Xabi together against Honduras was simply not needed because Honduras would secede possession fairly tamely, this will not be the case against Chile. The three man central midfield now becomes very important because of numerical superiority which could lead to wrestling possession in our favor. It would also allow for a perfect defensive layout against the Chileans, allowing for a spare center back to cover one of the flank approaches with a wing back in order to keep an overload of Chilean players from forcing a chance. The deep midfield, Busquets can play as an auxilary center back if needed, or pull out wide in order to keep the Chilean wing backs from overlapping to often. Having Villa out wide, and either Navas or Silva also create a numerical advantage in that the Chilean wing backs must be mindful of their defensive duties, and on a counter there is a three vs three break potential.
I just have a feeling Bielsa will not fall for that. He will look to stick to his style, but he knows full well that playing one central midfielder could be suicide, condemning his team to counter attacking almost exclusively. Chile of course will look dangerous counter attacking of course. But Bielsa, being a bit full of himself and his tactics, will want to prove something. Not saying its a bad thing, but he will make a few changes most likely. I predicted a three man backline for Chile, but do not hold me to it.
Del Bosque will most likely use Silva instead of Navas in order to attack from wide into the center. Navas hugs the touchline though, and without a dedicated defender you could see the advantages to using his skill set. Problem is neither Torres nor Villa has looked all that interested in attacking the crosses provided by Navas and Sergio Ramos. Oh man, I have a headache thinking about this, its such a pivotal tactical decision.
————Casillas———–
Ramos—Pique—Puyol—Capdevila
———–Busquets———–
———-Xavi–Xabi———–
—–Silva————–Villa—-
————-Torres————
I have a feeling Silva gets the nod here. He can do wide play or central play equally well, and might be the perfect player to exploit the gaps between three center backs. Even if Bielsa uses two, as he did in the second half against Honduras, Silva remains my choice. As I said, the three man midfield is now pivotal, and it will be the center piece of the team if they are to move forward in the tournament. I also did not get my way with Arbeloa playing left back against Honduras. Capdevila still has not shown much, but Del Bosque has a clear preference, so why fight a battle I cannot win. Capdevila and Ramos will be very very important in this game, having to attack and defend with vigor. They will be overlapped most likely by Chile's wing backs, and if not, they will have to deal with two very good wingers. I hope Capdevila can handle Sanchez…..
Villa and Silva will have to stay higher up the pitch though. They should not drop deep to help their outside backs, let Busquets and the center backs work on that. Allow Xabi or Xavi to mark Chile's two central midfielders, and you have yourself another numerical advantage (if Chile uses two midfielders and three center backs) in defense.
Should be an interesting game, and it will certainly be one that will elevate the Spanish game to a new level. Its a different kind of test for Spain, who have had no trouble dismantling 4-4-2's in the past, but in this odd 3-5-2/3-3-2-1, it may present a unique challenge. A challenge I will thoroughly enjoy watching. Thank you Bielsa for bringing something different to this World Cup. Lets just hope Del Bosque does not try to counter it directly. That falls in to Chile's hands. If we starve Chile of the ball, like most teams they will have a lesser impact on the game. The it becomes a matter of breaking down what can be a 5 man defense with a deep lying midfield who will harass Xavi and Xabi persistently.
Game time is 2:30pm eastern, and will be on ESPN here in the USA. The liveblog will be on the main World Cup blog page, and it should be an interesting event. I will be in Brooklyn, watching the game at a bar with some men wearing jeans tighter then my girlfriends', so that might take away from some of the excitement of the game. Also, a congratulations to the United States for qualifying for the next round, it was a very trying group stage, but they made it through and thats all that matters. Leave your comments on the match, I will be interested to see what everyone thinks of Chile.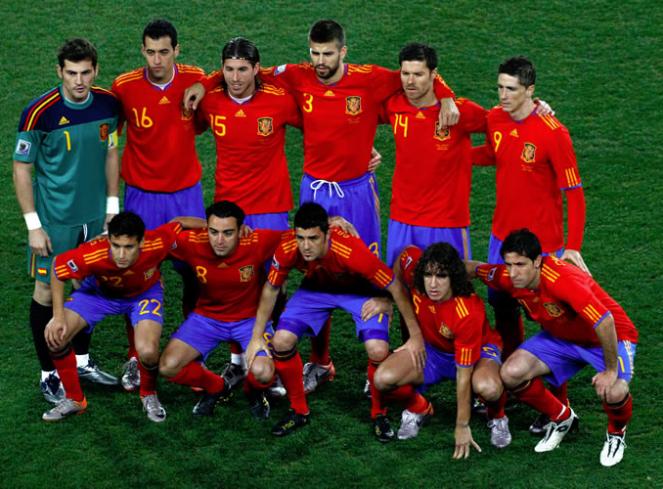 Subscribe

Spain World Cup Blog RSS Feed

Share
blog comments powered by Disqus