The Final 23: Del Bosque's Selección
May 20th, 2010 | by: Ade C. |

View Comments
Vicente Del Bosque has spoken, once again, and this is what he's said:
Goalkeepers: Iker Casillas, Pepe Reina, Víctor Valdés
Defenders: Raúl Albiol, Álvaro Arbeloa, Joan Capdevila, Carlos Marchena, Gerard Piqué, Carles Puyol, Sergio Ramos
Midfielders: Xabi Alonso, Sergi Busquets, Cesc Fàbregas, Andrés Iniesta, Javi Martínez, David Silva, Xavi Hernández,
Strikers: Jesús Navas, Juan Mata, Pedro Rodríguez, Fernando Llorente, Fernando Torres, David Villa.
*players in italics are uncapped so far.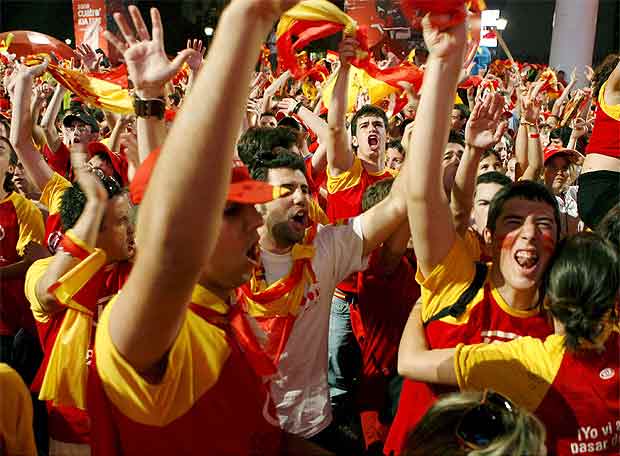 Those unfortunate souls who were fed hope, only to see their South African dream smashed to pieces: David De Gea, Diego López, César Azpilicueta, Marcos Senna, Álvaro Negredo, Dani Güiza and Santi Cazorla.
My reactions?
I feel very sorry for Senna and Cazorla, who, although they had an injury-plagued season at Villarreal, are now fit and, at least in Cazorla's case, in very good form. Glad to see Víctor Valdés getting a shout-out, although I doubt he'll get to play. I'm hoping Pedrito will score a crucial goal in a crucial match, as he is wont to do. And I'm sure that there's a few someones doing little victory dances in front of their computer at the sight of Athletic's Javi Martínez in the list. The other players who were cut aren't very big surprises, although there could be a debate on Güiza vs Llorente vs Negredo (or, not, after Negredo's pretty awful missed sitter in this week's Copa del Rey).
There are complaints that Vicente del Bosque has let himself let influenced by the press, but I think he's actually done quite well, all things considered. We have reliable keepers, a solid defense, a beautifully creative midfield, and an incisive attack. We have veterans and we have newcomers.
So, what do you think?
Subscribe

Spain World Cup Blog RSS Feed

Share
blog comments powered by Disqus