Who Is On Deck? 20 or so Under 20s, Thats Who!
May 5th, 2010 | by: Corey |

View Comments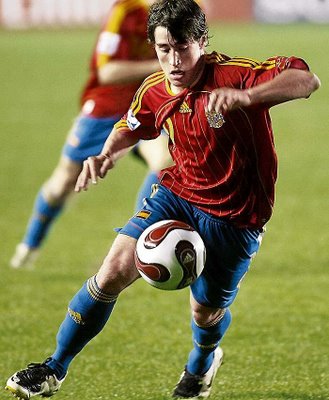 We have been talking about the World Cup alot over the past few months because, well its in a month or so and who wouldnt want to talk about it? But we also must consider the team's future beyond the World Cup. Ade did a great post on some of the possible retirees that will deplete the Spain squad after the World Cup, or maybe after Euro 2012. Many of the players mentioned in Ade's post are currently very important players that the Euro 2008 win was built around, and much of the national teams success was based on for the past five years or so. But fear not, because if there is one thing for certain with the Spanish national team: there is always a steady supply of youngsters ready to break into the national team. And thus, I would like to highlight some of the u-21 (and a select few u-19) stars of the future and give you a little information on where they could fit in to the squad.
First off, the Spanish u-21 and u-19 teams both have had strong qualification campaigns. The u-19 team has qualified for the European Championship already, while the u-21 team currently sits second in their group on 12 points from 5 games, but with a game in hand on Holland, who have a perfect 18 points from 6 games. It is by no means a formality that Spain qualifies for the tournament, but it seems increasingly likely they will enter the tournament either in second or first place in their group, with the decisive match against Holland scheduled for September 3rd somewhere in Spain. Coach Ramon Lopez Caro has a great deal of pedigree and experience as a youth coach, having come out of the Real Madrid cantera system and actually coached their first team for awhile.

Now then, on to some of the important players (and there are lots of 'em)! P.S. This took me a fortnight to research and write, so please enjoy!
Diego Capel:
I like to refer to him as 'Diver Capel', but my cynicism aside, he has been one of the best players for the u-21 side for some years. He also has a few first team caps to his name, but this year he has not been at his best for Sevilla, and has been overshadowed by Argentine Diego Perotti on the left wing. He works hard, and he is quick and tricky, but the final product is always lacking, and he is not much of a goal scorer. A traditional winger with long flowing blonde locks, unless he returns to form next season, he will be a fringe player at best for Spain. But I have a feeling he will mature and become a squad member for the Euro. He has some stiff competition from Mata, Riera, Iniesta and some of the players below for the left wing spots though.
Javi Martinez:
A natural born leader, Javi Martinez was one of the most expensive teenagers ever when Athletic paid Osasuna 6 million euros for a then 17 year old in 2006. He has been an automatic starter and sometimes club captain ever since then, with 30+ games the past three years and on pace for that mark this season. 121 first team appearances and he is only 21! He does alot of the dirty work in midfield as a holding player, but he can move forward and passes well. He has a decent long range shot, but most of his goals come from his head, where his imposing 6′3″ frame makes him a target on set pieces and late runs in to the box. Also, check out this cheeky bit of skill in the penalty area against Almeria. Beauty! He will most likely take over from Marcos Senna when he retires, and should be a sure bet for the next Euro. Great looking player with a ton of experience and a large frame. Cant ask for much more.
Joselu:
Much like Javi Martinez, Joselu is a big frame at 6′2″, but he prefers to play in the box from what I have seen. A skillful player, his performances for Celta Vigo in the Segunda led to Real Madrid buying him as an addition to their Castilla team for next season. His future looks bright, especially since he will be leaving the sinking ship that is Celta Vigo. A Spanish youth international since he was 18, he has four caps and one goal this qualifying campaign. Alot of his early promise (he scores Spain's second here) still needs to be firmed up with play in the first division, something he will not get next year with the Castilla team, but he has potential and is still only 19. If he can break in to the Real Madrid first team next year, he may take a familiar path that Alvaro Negredo and Roberto Soldado took as loan stars. Probably not ready for the Euro, but if he gets playing time in La Liga, expect him to develop in to a Guiza-like player. Lets hope he doesnt frustrate in much the same way.
Jordi Alba:
Jordi Alba has been ever present for Spain in youth categories, and has played in three qualifying games for the u-21. He had a tremendous campaign with Gimnastic in the Segunda last year and has been converted to a new position this season with Valencia, left back. A very skilled player, I do not know whether the left back move will be permanent, as 35 games and 4 goals as a left winger for Gimnastic sort of proved his worth in that position. And stuff like this. While I believe in his ability, he will have to nudge Mata out of the left wing position at Valencia before he gets any call ups to the full national team. Might be a later bloomer with a different Primera team down the road….
Fran Merida:
The one that got away from Barcelona (other then Fabregas), he has been a mainstay of youth teams in Spain for years now, and his potential as an attacking midfielder has always been highly touted by Arsene Wenger. Thing is, he does not play much for Arsenal right now, and when he was on loan at Sociedad last year, he only got a handful of games also. He always performs well for Spain's u-21 team but I wonder if he will stagnate at Arsenal and become unfulfilled talent. A move to Atletico Madrid has been reported this year, but I dont foresee that as being much better for him. Look what has happened to Nacho Camacho, or Mario Suarez, or to a lesser extent Jurado. All are great prospects, but they either never get any games, or play/ed indifferently there. I do worry about Merida's long term growth and if something does not change, I dont see him as a viable option for Spain in the next few years.
Ander Herrera:
Fran Merida's loss is Ander Herrera's gain I suppose. Wow, what a little magician this kid is. The entrusted playmaker of Real Zaragoza at 18, guiding them to promotion last year and running the offense this year. He is the most fouled player in La Liga this term, which speaks volumes of his trickiness, but also his small stature and lack of balance. He might need to bulk up a bit in the coming years, but he has the vision and the movement of a playmaker. I really like the player, but I do think there are others with a more complete game that could keep him out of the national team. Like…
Dani Parejo:
Definitely close to a national team call up, Parejo would be the perfect replacement for Xavi (god forbid he ever retire!!!!), and a great partner for Javi Martinez in a central midfield role. He has been inconsistent this year with Getafe, but man when he is one he is quite the player. He is a more complete midfielder (see late run headed goal here) then Ander in that he can tackle back, and therefore may find himself not in direct competition with Ander I suppose. If he stays with Getafe next year expect Del Bosque to come calling for some friendlies. If he moves back to Real Madrid, well its a crap shoot isnt it. He will eventually return there, but another year with Getafe (who should make Europe for next year) will do his development good. He has been a star performer for the u-21s, and with his mix of passing, long range shooting and smart positional play, he could be one of the stars of the tournament. Another player Fran Merida may end up loosing out to in the long haul.
Victor Ruiz:
Big strong and overly aggressive center back. Check. Can play the ball out of the back. Check. Gerard Pique clone? Sort of, and he has been excellent for Espanyol this season as a result of this combination of physicality and calm on the ball. He also is great on set pieces. Damn, he is a Pique clone! Rumored to be headed to Liverpool this year, he may need to gradually move in to European football before he can make the jump to the Spanish team, but he will be hanging around thats for sure.
Mikel San Jose
In the same vein as Victor Ruiz, although he is not as great with the ball at his feet, but he is amazing in the air, probably from his time in England. Athletic will probably be playing in Europe again next year which will help him develop further, and I would say along with Alvaro Dominguez, he will be looking to replace Puyol when he retires. Its a big jump for the kid, but in two years time he should have a cap or two to his name.
Bojan Krkic:
Like Diego Capel, he has caps (well, a cap) and has been in the national team running for awhile (note, awhile in footballing terms is around two years) now, so I dont know if he really fits here, but he is an incredible talent who seems to be one of the few Barcelona youth players not gaining from the Dream Boys magnificent run of trophies. I understand the kid loves his club and all that, but I do think a loan would do him a world of good in terms of development. He has the scoring prowess as a natural instinct, and only needs experience and physical maturation, although I dont know if he will ever get any taller or bulkier per say. I have not given up on him yet, as a 19 year old still has plenty of time to work on his game, but I dont know if the new Barcelona, one that now must contend for every title, has the patience for his near misses and all that comes with the learning process a 19 year old striker must go through. Last year Pep did well with youth teamers because the pressure was not really there. This year, besides Pedro, he has had a tough time with Bojan, Jeffren, Thiago, Dos Santos etc. because the team needs to win all of its games. Maybe a less pressure filled environment would help Bojan along, if only for a season. My two cents, feel free to disagree!
Cesar Azpilicueta:
Cesar (I will refer to him by his first name because his last name is a pain in the ass to spell) has been a first team starter for Osasuna since he was 17 (seeing a pattern with Basque players yet). He has 80 appearances since the 07-08 season, not bad for a player who started life as a midfielder but was converted to a very fast right back. He will have a tough time getting past Sergio Ramos for the first team, but he will learn the ropes as his deputy at some point. I am fully convinced Cesar will be a first team player in the next 2-3 years given Del Bosque's fondness for the Osasuna cantera (and Nacho Monreal).
Roberto Canella and Jose Angel:
Roberto Canella and Jose Angel are the 1-2 young left back punch at Sporting right now. Canella has shown alot of promise and has been linked with a ton of clubs in the past two years. With 98 appearances since 06/07, he is another player with alot of experience in his position despite his tender age. He will most likely move on from Sporting either this summer or next in search of a new challenge, and could very well challenge Monreal for Capdevila's vacated left back spot. I think Canella has a strong character (he is sometimes team captain for Sporting) and the physical attributes to be a quality left back, but like several of these players, will need exposure to the higher echelons of European competition to continue developing as a player. At 22, his next team could be make or break for his career.
Jose Angel, or Cote, has deputized for Canella first in the B team, then the first team. At 20, he is still very young as well, but he is quicker then Canella and has better skills on the ball. I have not seen him play all that much (the one game I did catch he got sent off for a phantom foul on Alvaro Negredo, tsk tsk Alvaro), so I cant really comment to much on his abilities.
Kiko Femenia
I have seen this kid in action, and its all peddle to the metal, tearing up and down the right flank either as a midfield or a wing back. 28 appearance for Hercules in two years is nothing to turn your nose at, but I am really excited to see how he performs in La Liga next year. He has been around the Spanish youth teams for awhile also, and is seen as something of a prodigy at Hercules, along with Raul Ruiz (who moved to Real Madrid Castilla this year). Obviously Sergio Ramos and Alvaro Arbeloa are big road blocks to getting in to the national team at right back, and Azpilicueta would get the nod over him simply because he has more Liga experience. But next season could be a break out campaign for the kid, and I cant wait to see him playing against the likes of Mata, Ronaldo, and Messi. He can keep up with all of them for pace, thats for sure.
Alberto Botia:
Much like San Jose and Victor Ruiz, Botia is a big dude that is comfortable with the ball at his feet. Botia could replace either Puyol or Marchena in the team, but he has stiff competition from the above mentioned names and Alvaro Dominquez, who I am pretty high on despite Atletico' defense being horrid. Sporting has not been all that great this year, but Botia has been strong in his first full season in La Liga, and you have to think he will improve if left at Sporting. If he moves back to Barca then I dont see him playing much, even if several defenders may be offloaded at the Camp Nou this summer. Probably worth a look, but he is below San Jose and Ruiz at this point, and about level with Dominguez. Considering Marchena will definitely retire, that leaves one spot for four. Puyol will probably soldier on through the Euro, but not the next World Cup, so there is another spot. Who knows what kind of player will be available by then? Pique and Raul Albiol is the future, unless one of those four can say something about it.
David De Gea:
As much as I like Iker Casillas, and I really do like Iker Casillas, has anyone gotten bored of seeing the same keeper for Spain for the past ten years? And in all likelihood the next ten years? Side stepping the Victor Valdes debate, and again reaffirming my support for Casillas, I do have to say I am sold on De Gea. Still gait and frail at 19, he is a stud if you have ever seen one, and when Iker does end up the wrong side of 35 or so, De Gea will be 25. He wont get the longevity Casillas enjoyed, but I think he will be just as good. Remember how I said Atletico's defense is horrible? Baptism by fire for young De Gea, in much the same way Casillas learned the trade with Real's miserable defense of the early-to-mid 00s. Watch an Atletico game for the entertainment value of seeing the Jekyle-and-Hyde performances of the team. But also pay attention to De Gea and his chicken legs. He likes to punch the ball, has incredibly reflexes and at 19 aint all that bad at claiming crosses and 1v1s. The upside is enormous, sorry Asenjo….
Sergio Canales:
What future talents list of Spain would be complete without Sergio Canales? The next great thing, I still have concerns over his physical stature and stamina, but he is young like many of these players and that is one area where time in the gym and the natural maturation process improve. His positioning has always been excellent, and he makes great runs with or without the ball. A set piece expert at his age, you see big things in the future. Not really a Xavi replacement (Fabregas handles that anyways), his talent should only be further developed at Real where I think he will get plenty of game time. If he is loaned out again, all the better. He may not be a selection for the next Euro, but he will have a few senior caps, and will further cement an already impressive midfield. I foresee him robbing Albert Riera or Santi Cazorla of a squad place in the future which seems acceptable, although Santi is a good player so maybe not. Ugh, with this many players its hard to see where he fits in, but his talent dictates he will fit in somehow.
Rodrigo Moreno:
Maybe a little to early to predict his abilities at this point, then some of the names from here on out are even younger then those already discussed. Rodrigo was signed from Celta Vigo this past summer by Real Madrid, where he made steady progress through three youth selections along with Pablo Sarabia before appearing for the Castilla team in the Segunda B. He has 5 goals since January to his credit, and some really strong performances for club and country, where he has struck up a good partnership with Samuel Saiz. A perennial selection for the u-19 team since September, his record of 6 caps and 4 goals is most impressive for the naturalized Spaniard. His position still remains up in the air, as he is a goal scorer who likes to come in from the wing, much like Thierry Henry in his younger days (I think I already used that comparison in this post?). He will be with the Castilla next season, but like many of the Real Madrid youngsters in this list, first team football will probably come away from the Bernabeu.
Keko:
Atletico Madrid's cantera has been awfully productive recently, with the likes of Alvaro, Borja Baston, German Pacheco, Koke, Ibrahima, Cedric, Leandro Cabrera and Nacho Camacho all names Spanish football fans might be familiar with, besides of course David De Gea. A golden generation if you will, and Keko is another one of those players, who is currently on loan with Real Valladolid. Keko, or Sergio Gontan, is much like Jesus Navas in that he runs with his head down until he gets to the byline and whips in a cross. At 18 he has 10 La Liga games split between Atletico and the pucela, with numerous caps for the u-16 team right on up to the u-19 team. He is an interesting player in that he shows some of the skills that players ten years his senior show in the Atletico squad, and the Valladolid loan has done him some good. While its great to see his blonde mop bouncing up and down the touchline, he needs to add more to his game beyond the north to south movement. Adding a scoring touch and maybe some better defensive work will see him elevate his game even further.
Iker Munian:
The phenom thats all of 17 right now, he has 22 appearances for Bilbao in his first season, with three great goals to go along. Used mainly off the bench because of his physical condition, expect him to keep that up for the next year or two, but trust me, this kid is for real. As impressive a playmaker/striker as Sergio Canales, if not more, he is so slippery a player to mark with tremendous skill. He might end up being the youngest ever Spain player if he is able to start more games and score a couple more goals for Bilbao. Problem I foresee is Bilbao is so direct in their playing style, and also overly physical, neither of which suit him, but if Ander Herrera is signed and Munian and Suseata get more time, they will become more of a flair to, which will demonstrate all three players quality.
Kevin La Cruz:
The Zaragoza winger made his La Liga debut aged just 17, and had made three appearances beyond that, but has found playing time hard to come by since Aurelio Gay took over and Zara has battled out of the relegation zone. He has figured prominently for the Spanish u-17 and u-18 teams heavily, with 2 caps this year for the u-18s. He is a very fast and technical winger, much like Jesus Navas, who of course is very light weight and easily moved off the ball. He could become a good player for Zara if he is trusted in much the same way Ander Herrera has been this season.
Rochina:
I do not know a whole lot about this kid, but what I do know is that he scores his fair share of goals. Currently on Barcelona's books, the 19 year old has a couple of players in his way for the first team, so I dont know if he is a very viable option for Barcelona at this point, but he could be a late bloomer, one who takes a few years of lower league football to come good, like a Guiza.
Oscar Sielva:
Espanyol's academy has another notable name in Oscar Sielva, an extremely gifted central midfield player that plays like Xavi. Still very young at 18, he has 5 appearances for Espanyol as a 17 year old and a further 7 this season in the Segunda with promotion chasing FC Cartagena. Like I said, he is a Xavi type player, who uses short passing and movement to free himself from marking and then look for a killer pass. Who knows if he will ever be as good as Xavi, but I figured he was worth a mention.
Hugo Mallo:
Another Celta Vigo product, Hugo Mallo has established himself as the starting right back this season aged only 18. He also has figured prominently for the u-19 team and further caps lay ahead. As with most of these younger players, the WC in Brazil might even be a stretch, and considering the depth at right back for the national team, he is certainly not assured a place. But he has great potential, and is one to keep an eye on.
Marc Bartra/Marc Muniesa:
Muniesa is Barcelona's replacement for Carlos Puyol I suppose, if he can grow his hair out a little more, but his build likens him more to Pique. The lad had a rather rough debut, getting sent off last year after a few minutes on the field against Osasuna, but he was on the bench for the Champions League final that year. Still highly regarded, and he will probably add to the solitary game if Rafa Marquez and Chygrinsky leave this summer. Bartra also has one game to his credit, coming in against Aletitco in the loss at the Calderon. Both are Spanish youth internationals and have been playing for Barca their whole career. Bartra is a better right back then center back while Muniesa is a primarily a center back. Both players are u-19 regulars, and if Guardiola stays in charge, expect one if not both to become a first team regular eventually.
The Entire Malaga Youth Setup
Manu Torres, Edu Ramos, Jordi Pablo (who missed the season with a knee injury, real shame), Dani Toribio, Ivan Gonzalez, Pedrito, Javi Lopez and Juanmi are all Malaga B players who have played a game or more this season in La Liga. Thats pretty remarkable (also consider Jesus Gamez, Apono, Juanito, Fernando and Manolo are all canteranos as well) in sure volume, but all of those players are pretty good too. Something is not right with the Malaga team, and they look likely to be relegated, but that means more playing time for many of the players. Edu Ramos is a very gifted central midfielder, while Manu Torres is a fast left back, Ivan Gonzalez is a strong and calm center back who will attract offers this summer and Javi Lopez is a lighting quick winger with a goal scoring touch. But the biggest talent has to be 16 year old Juanmi, who scored in the Copa del Rey on his debut and got to play at the Bernabeu already in his short career. The big star of the u-18 team, he has been left out of the team do to disciplinary reasons, but dont let that put you off, he is a natural born goal scorer and will hopefully keep his temper under control to mature in to a great player. No guarantees here though.
I am sure I left out names, actually I know I left out names because I got tired of typing. If you have a particular player you think has the potential to be a Spanish national team player some day and is still under the age off 22, feel free to share in the comments. You can also give your opinion on any of these players I have profiled. Im sure Ill see a Dani Aquino or Emilio Nsue or Sergio Tejera in the comments and of course any foreign based players I missed (the horde of players at Liverpool like Pacheco, Dani Sanchez Ayala, Fran Duran, Suso) can be discussed also.
Subscribe

Spain World Cup Blog RSS Feed

Share
blog comments powered by Disqus